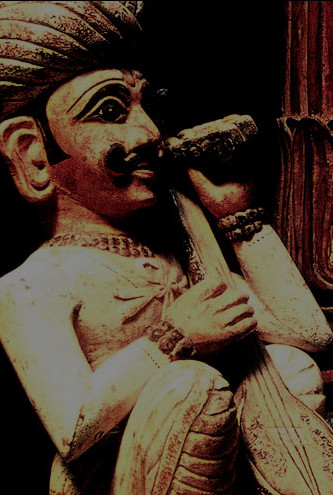 Un peu d'histoire… Ce fut d'abord des moyens de locomotion pour acheminer le  courrier vers l'Orient. La Malle Des Indes a tout envoyé du dromadaire à l'hydravion, du train de luxe au steamer. Au début du XIXe siècle, l'Angleterre, grande puissance maritime et coloniale, cherche à établir des liaisons rapides avec les pays placés sous sa domination. Entretenir des relations directes avec l'Inde, le plus riche fleuron de la Couronne de sa Majesté, constitue donc l'une des préoccupations majeures du gouvernement Britannique. La Malle Des Indes était créée. Elle empreinte d'abord la voie maritime : une vaste expédition de cinq mois en voilier via le Cap de Bonne Espérance, puis en paquebot et train à vapeur, vont autoriser l'exploration d'autres routes plus sûres et plus rapides à travers les continents.
Aujourd'hui …La Malle Des Indes est un endroit secret niché à Verquières, petit village de Provence, à deux pas de l'illustre Nationale 7 chantée par Charles Trenet. Partez à la découverte d'un vaste univers dédié au bon goût et à l'insolite, au faste de l'Orient et aux charmes des contrées lointaines.
La Malle Des Indes c'est beaucoup plus que des meubles du bout du monde et des objets raffinés. La Malle Des Indes, c'est un voyage…
Beyond a legend
A bit of history… First devoted to carry mail to the Orient, the "Malle des Indes" (Peninsula-Express) has transported just everything, from dromedary to hydroplane, from luxury train to steamer. In the early 19th century England is a major maritime and colonial power and is willing to set up fast connections with its dominions . Keeping a direct and close bond with India, the greatest jewel on the Queen's crown , is then an utmost priority for the British government. The "Malle des Indes" is created. It is first seaborne: a great five month expedition by sailing boat via the Cape of Good Hope. Then by liners and trains that will allow the exploration of shorter and safer inland tineraries.
Nowadays, "la malle des indes" is a secret hideaway in Verquières, a Provencal village two steps away from the celebrated "Nationale 7" sung by Charles Trenet. Treat yourself to the discovery of a vast realm dedicated to good taste and out of the ordinary artefacts,  to the splendour of the Orient and the charms of faraway lands.
"La Malle des Indes" is much more than furniture that comes from the other side of the world and refined objects.